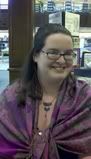 Hello!  My name is Anne Callaway.  I am a certified Music Educator, based in Terre Haute, Indiana.  My focus student base is primarily children and teens, however I teach adult students in specific areas of music.  My studio is an affiliate of The Healthy Voice Studio.  I am currently accepting students for private music lessons and am available to tutor students of all ages for almost any music class.
I have received my Bachelor of Music from Berry College with the focuses of Music Education and Vocal Music.  I have been studying voice for twenty years and have performed in many choirs throughout that time including: the children and adult choirs of St. Bede Episcopal church, the Berry College Concert Choir, the DeKalb Choral Guild, and the Summer Singers of Atlanta.  I have experience leading choirs through my work as the assistant director of the St. Bede's children's choir and as a substitute choir director.
I have taught several voice and music theory private students as well as a general music class for the Home School Association of Rayleigh.  I have also taught after-school drama at Oak Grove Elementary school in Atlanta, Georgia.  While drama was not my main subject of study, I am a great admirer of the art.  I strongly recommend to all my voice students to study Drama to improve their stage presence.  I have taken courses in Theater Lighting and Sound, Improvised Acting, and Backstage Work.  I am well versed in stage makeup and costume design, as that is one of my non-professional hobbies.  I performed in Berry College's production of the musical "Oklahoma" and, as part of my student teaching, assisted the production of Pepperell High School's 2008 performance of "The Pirates of Penzance" as a voice coach and sound designer.  I have been a regular attendant at the Atlanta Shakespeare Tavern for the past fifteen years.  I feel that watching professional actors at work is the best way for students of drama to learn.  I also regularly read plays for my own pleasure.
Contact me
 Anne Callaway Healthy Voice Studio, Terre Haute 2116 College Ave. Terre Haute, IN 47803
callaway_anne@yahoo.com
404-502-2762